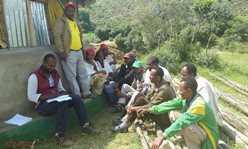 This section of the website provides links to the research outputs such as post-graduate theses, undergraduate student research, case studies and journal articles as a result of the following activities:
Field-based action research that is carried out into farmers' practices and needs by students, working closely with their faculty supervisors.  Research is participatory and involves relevant community-wide partners within respective value chains.
Students, faculty and staff participate in capacity-building workshops in participatory action research, pedagogical design, OER and media production skills.
Case Studies
Theses (Completed, Examined and Defended)
Haumbe, E. 2015 Challenges of documenting and disseminating agricultural Indigenous knowledge for sustainable food security in Soroti District
Yohanes, Meron. 2015.'Analysis of spatial co-integration of two major vegetable markets in Eastern Ethiopia'.
Publication in Peer-Reviewed Journals
Geith, C. and Vignare, K. 2013. AgShare Open Knowledge: Improving Rural Communities through University Student Action Research.  Journal of Asynchronous Learning Networks, Volume 17: Issue 2
Jemal, Y.H. 2015.The Potential of a Multimedia Open Educational Resource Module in Enhancing Effective Teaching and Learning in a Postgraduate Agricultural Program: Experience From AgShare Project Model. Journal of Asynchronous Learning Networks, Volume 17: Issue 2.